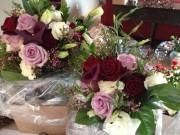 Your fresh arrangement has been prepped and fed to give you long-lasting enjoyment. Every arrangement we deliver was made to order with the freshest flowers possible. To keep your bouquet looking fresh longer, we've prepared a care and feeding guide for you.
Basically, there is just 1 simple thing you need to know about flowers - they drink their food. By paying attention to the water in the vase, you'll be able to take better care of your flowers.
If the water gets low - add more.
If the water gets cloudy - change it.
Plants do not live on water alone - they need nutrients, too. Those little packets of flower food provide nutrients, reduce harmful bacteria and improve the 'drinkability' of the water.
Only the stems should be in the water - any leaves under water should be removed.
Got any questions? Give us a call and we'll be glad to help.