Order Fresh Flowers
Looking for something unique?
Flowers are amazing and ever-changing - why limit your choices? We'll cut and arrange the freshest flowers available with your intended in mind - and we deliver!
Hours
Monday 8am - 7pm
Tuesday 8am - 7pm
Wednesday 8am - 7pm
Thursday 8am - 7pm
Friday 8am - 6pm
Saturday 8am - 4:30pm
Sunday Closed

Upcoming days that will have special hours:
Thanksgiving, November 23, 2023
There is something about fresh flowers that always makes us smile. There are times we can't quite come up with words to express our thoughts, yet even the simplest floral arrangements can. Every time you order an arrangement, it's about your thoughts, feelings and desires. It's about the person receiving the flowers. Each arrangement from us is made to order using the best fresh flowers available, bringing the best nature has to offer.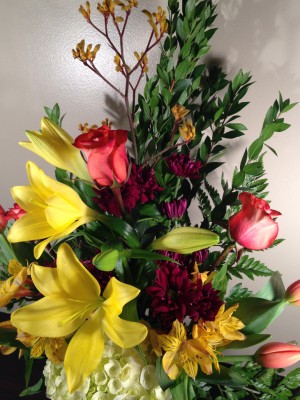 If you need a fresh flowers delivered for your special occasion - please call or text Gayle at (651) 303-4223 to share your thoughts and tell her about the occasion. She will translate that into a 1-of-a-kind bouquet or arrangement, make it and deliver it for you. Or, you can stop by and pick them up when they are ready. If you would like to contact us online, simply complete our Fresh Flower Order form and one of us will be in touch with you.
To make sure you always get the best flowers in your arrangements, we get new flowers in every day - checking the local markets to see what is at their peak and searching out unique accents and show pieces.
A custom fresh arrangement is perfect to fill a spot in your home or office, or to give on a special occasion
All of our arrangements are created specially for each order, so you are sure to get something fresh and unique
You can choose to be exotic, traditional, simple, or contemporary. Even common flowers take on an exciting look in one of our arrangements
We deliver in Eagan, Apple Valley, Burnsville, Farmington, Rosemount, Inver Grove Heights and throughout the Minneapolis/St. Paul area
If you're looking for some ideas on the type or style of the fresh flowers you'd like to send, browse through our gallery of fresh arrangements.
| | |
| --- | --- |
| Last modified on 2023/2/19 by Steve | |