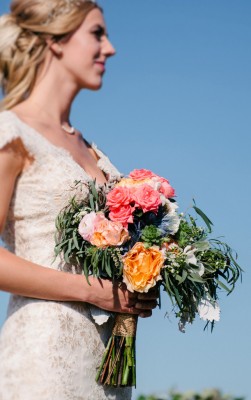 Your wedding will be a memorable, one-of-a-kind event and deserves special attention. Your wedding florals should be just as memorable.   
To help us get to know you better, we offer each couple a free consultation to learn about your wedding and floral plans and answer questions you may have. You can make that time more effective by completing a
request for a wedding consultation
prior to the meeting, letting us know more about your wedding specifics. (
Only the top section of the questionnaire is required, but the rest certainly helps
).
Here's what we'll talk about during your wedding consultation.
Your Wedding Day
We'll go over the dates, times and locations for your wedding and reception and the flowers you want for people, at the ceremony and at the reception. Our wedding bookings are limited, so we can focus on every detail for you - what to deliver, where to deliver, when to deliver, and contact details for each delivery and setup.
Seasons are very important for wedding flower selections and pricing. Some flowers are available year round because they are grown all around the world. Others are limited to specific seasons. Spring, summer, fall, or winter - we'll guide you in your flower selections for your wedding day.
Your Style
Whether it's elegant, romantic, rustic, traditional, casual, fun, exotic, or contemporary, we'll get to know each other a little better - your personality, your color preferences, your styles and the mood for your wedding. You are encouraged to bring photos of designs you like and samples of colors for your wedding gown and bridesmaids' gowns. If you need some inspiration for your wedding flowers, you can look through our albums or our Pinterest boards.
Your Venues
Each location offers its unique flavor to your wedding - they can also have specific guidelines for using flowers and other decor. We've worked with many different venues over the years and we've gotten familiar with their rooms, their staff and their requirements. We'll be sure to get the details for your wedding and who we'll be working with at each location.
Your Budget
We also discuss your floral budget and tailor your flowers to your wedding and your budget. There is no 'set' amount or budget range for florals, but most wedding budget planners have flowers coming in around 8 - 10% of your total wedding budget. Some flowers are only available at certain times of the year, we'll help guide your selections to give you the look you'll love and stay within your budget. Everything you decide on will be detailed in a written proposal to you, along with the exact charges for each item.
Our Commitment
We are here to help make your day memorable and handle the many details for your flowers. Once your consultation is complete, you will be presented with a basic estimate of the florals and arrangements for your wedding. A written proposal will be sent soon afterwards. If there are specialty items that have limited availability, additional time may be needed to prepare your final proposal and we may also propose alternative choices, based on availability and your budget.
Remember, there are many details you need to consider when planning your wedding - we can make planning your flowers much easier. You deserve arrangements designed with you in mind: designed to match your colors, your style, and your mood. To see some special wedding photos - take a peek at some of our
wedding albums
.
| | |
| --- | --- |
| Last modified on 2021/12/11 by Steve | |
More Information
Weddings
Wedding Showcase - A photo gallery of floral options and individual weddings
Request a Consultation - We will gladly meet with you to discuss your vision for your wedding flowers. Complete this short form about your wedding celebration and we will schedule a personal consultation.
Wedding Reviews - What others are saying about us.

Our WeddingWire page

Our page at TheKnot