Say It With Flowers
Sometimes you just can't find the words, or words aren't enough. Let the people you care about know you're thinking of them and you're there for them.
Or, call us - even if you just need to talk. (651) 303-4223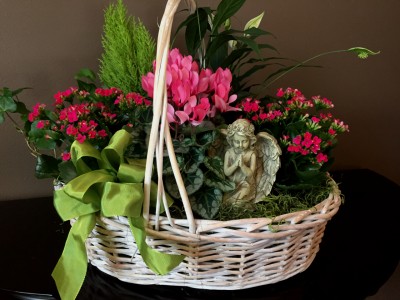 Every person is unique and your relationship with them is like no other. Honoring your relationship with them with a special floral arrangement is one way to express your feelings.
We are here when you need us - to listen, to answer questions about traditions and what's in season, and to offer suggestions that express your feelings. If words are hard to come by and you'd like Gayle to call you, you can use our online form to start the process.
Words don't always express the full range of emotions you have. The arrangements you send will express your feelings and let the family members know you are thinking of them. Let your relationship with the person guide your choices to personalize the arrangement - choose their favorite colors, include objects that capture their spirit.
You can send flowers at any time, even if you aren't able to send them in time for the funeral or memorial service. It is quite appropriate to send flowers after the funeral and much more genuine than allowing the loss to go unacknowledged. If the family has suggested donations in lieu of flowers, they often do so to encourage supporting charities or organizations important to them. Sending flowers may still be appropriate, given your relationship with them.
There are no set 'sympathy' style arrangements - it is whatever you'd like to send to represent your sympathy. We have some albums of sympathy and memorial arrangements we have created in the past that might help you decide what you'd like to send.
When choosing an arrangement to express your sentiments, the terms used to describe arrangements vary, but 2 common descriptions are sympathy and memorial. In general, sympathy arrangements get delivered to a family member, either at home or at work. Memorial arrangements are delivered to the funeral home or church for the funeral. Often times, flowers sent to the funeral will be taken home by a family member, used at the church, or given to a hospital or retirement center, if they are in a vase. Standing sprays, wreaths and casket sprays will more likely be brought to the grave site and later removed by the cemetery staff.
| | |
| --- | --- |
| Last modified on 2020/9/13 by Steve | |