Order Fresh Flowers
Looking for something unique?
Flowers are amazing and ever-changing - why limit your choices? We'll cut and arrange the freshest flowers available with your intended in mind - and we deliver!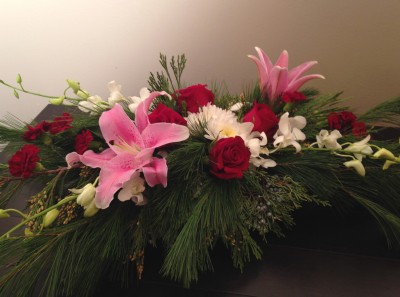 Holidays are some of the most aromatic times of the year - spices and fragrances that evoke memories, along with the colors that liven your decor. Decorating can range from a special arrangement to a complete transformation of your home or business. Share the holiday spirit with friends and family with a unique holiday floral arrangement, designed just for them.
Everyone likes to dress up for holidays and special occasions - we can help dress up your home or place of business
Combining both fresh plants and permanent botanicals, we can give a new look to one room of your home (or all of them), your lobby or boardroom, or outside the entrance of your building
We have different wardrobes for winter, spring, summer and fall - and homes and workplaces can benefit from a few wardrobe changes, too
Call us to have a holiday arrangement delivered, or contact us to schedule an on site consultation for a holiday makeover.
| | |
| --- | --- |
| Last modified on 2019/3/12 by Steve | |
More Information
Holidays
Holiday Showcase - A visual sampling of some of our holiday decor

Contact Us request a private consultation for your holiday floral needs