We are coming up on the 14th of February - a day set aside to observe love and devotion.
Since Valentine's Day is observed worldwide, this isn't just another Hallmark holiday. It is the second most celebrated holiday in the world (New Year's Day is #1). In fact, Valentine's Day goes back quite a ways - to the 5th century, when Pope Gelasius declared February 14th as a day to honor St. Valentine (A real person! Actually, there are several saints named Valentine - possibly as many as 11).
In classrooms around the country, countless children in elementary school will exchange Valentine's cards. Approximately 224 million roses were exchanged for Valentine's Day in 2012. Even with all those roses, Valentine's Day is only the 3rd most popular day for fresh floral and plant purchases, behind Christmas/Chanukah and Mother's Day. It is the #1 day for fresh flower purchases, though.
Giving cards and flowers for Valentine's both date back to the 1700's as a way to express your love for another. Some of the popular flowers -
Roses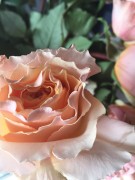 Roses come in a variety of colors and each color can express something different. Red is for deep emotions - love, desire and longing. Pink expresses softer emotions, like admiration, joy and gratitude. Yellow roses reflect the sun, warmth and happiness. Lavendar roses are for enchantment and love at first sight. White flowers are generally associated with new beginnings and purity.
Whatever color of rose you select for your arrangement, they are all symbols of your feelings for the recipient.
Tulips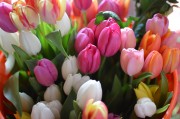 Symbolic of true love, tulips are another popular choice for arrangements, even for wedding bouquets. Tulips work well by themselves or with roses, lilies, mums for added variety.
Lilies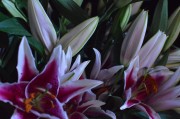 Not only are lilies a dramatic flower for an arrangement, some also add a beautiful fragrance (the Oriental varieties, not the Asiatic varieties). Symbolic of purity of heart and refined beauty, lilies express deeper affection.
Chrysanthemum
These just aren't your every day garden variety mum (but those are beautiful, too). Mums represent fidelity, optimism, joy and long life and come in all shapes, colors and sizes.
Irises
Irises add a touch of elegance to an arrangement and they offer a simply stunning bouquet all by themselves. Irises convey eloquence, hope, wisdom, compliments, faith and passion.
Daisies (and Gerberas)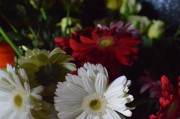 Beautiful as an accent in an arrangement, but also striking as the focal point. Daisies and gerberas symbolize beauty, innocence and purity.
There are a multitude of flowers to choose from and a rainbow of colors. That's what makes being a florist so much fun.
We have some pictures of the Valentine's flowers we've created