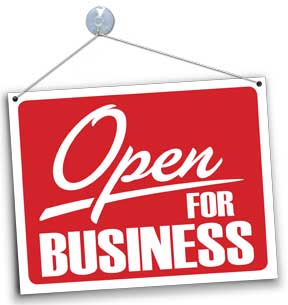 Back in the first part of 2011, the last full time floral shop in Eagan closed its doors. We often would refer callers looking for a last minute flower arrangement to Eagan Floral, but we've had to adjust and find other alternatives. This isn't new news, but it is something small businesses are having to deal with more regularly. We're ready to help you sort this out.
Businesses are facing changes in their industries because of shifts in how America shops. Not that long ago, the local shop was where everyone shopped - you knew the owners, they knew you and each shop had its specialty. No one place had everything you needed, but that was OK because you did know what they carried and that they would stand behind it. Then, the urbanization of America began to change the landscape - people moved farther apart and shopping for even basic goods became less convenient and personal.
Mail-order catalogs eliminated the need for some of the trips to the large shopping centers and department stores. The Internet has extended your shopping reach, bringing even more businesses into your marketplace and, in some ways, reducing the shipping delays. Many of those far-away businesses lack personality and you didn't know a single person there and they certainly didn't know you.
How has this affected the local flower shop? Well, you can now pick up a dozen roses or simple bouquet along with the groceries for dinner. You can call 1-800-Flowers® or FTD® and have something delivered anywhere in the country, for an extra fee. You may even buy direct from a grower for some large event you've got coming up. It's hard to compete with some of those patterns and many cities are seeing the closing of their floral shops.
We are here to put more flower options back into Eagan. If you need a floral arrangement delivered in Eagan and want to talk to the florist that will make your arrangement and deliver it - call us. Or, call your local florist - in most cases, you'll get a better deal and have more options.