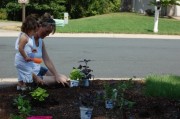 As I am out dealing with 'weeds', I often wonder about what I'm really doing. After all, a plant is a weed only by circumstance. And, what compels me to do what I do? I yank one plant out by the roots, yet gently nestle another in nearby.
I realize plants grow in places we don't want them to. And - they won't grow where we do want them to. They grow in places we don't expect them to. And they've grown without us doting over them and bringing them water and food. All of this leads to a very difficult question to answer - Why does it matter? Why do we garden?
Throughout the existence of humanity, we have had 2 main strategies for survival - hunter-gatherer and agrarian. Agriculture has become our predominant way of obtaining food and clothing, supporting a population that has expanded to 7 billion people. But, that's farming, not gardening.
I believe gardening is not merely a matter of survival, but it is a spiritual practice. One that we turn to for peace, comfort and a sense of wonder. We garden, not for the effect we have on the garden, but for the effect it has on us.
You can easily lose yourself among the flowers and foliage of even the smallest garden, spending hours in reflection. Horticultural therapy began to emerge in the 18th century, when Benjamin Rush, a signor of the Declaration of Independence and psychiatrist, noticed and documented how gardening affected his patients. The effect goes beyond the impact to the gardener. Sitting in, walking by or through a garden can have healing effects. Even looking at a garden or a picture of a landscape has noticeable effects on people.
I don't know why you garden, if you garden at all. But, I do know why I garden. While gardening, I can fully appreciate all the wonder of creation, be a good steward of my part of the world, and leave behind something that others will be enriched by and enjoy.
Please share your gardening experiences with others - we'd love to hear them, too!